Austrian Innovations at AIRPOWER2022
For the 10th time, the Province of Styria, Red Bull and the Austrian Armed Forces hosted Europe's largest airshow at Hinterstoisser Air Base in Zeltweg. The Federal Ministry for Climate Protection, the FFG and AustriaTech participated as exhibitors at the technology and business exhibition and provided advice on national and international funding as well as upcoming information events for research & innovation in aviation.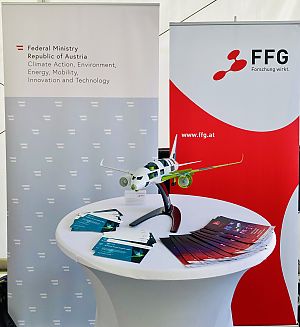 On September 02 and 03, almost 275,000 spectators were able to look at the performance of the Austrian Armed Forces and the cooperation with international guests. The interaction of flight exercises, air safety and air traffic control, blue light organizations and administrative authorities could be demonstrated by the civil-military event. Equally convincing were the new standards in sustainable event management, such as stricter rules on green procurement or the increase in public transport capacity. This year, according to the organizers, approximately 700t of CO2 could be saved, an important contribution to the sustainability of such a large event.
Technology and business exhibition
Numerous international developers and manufacturers as well as exhibitors from the Austrian aerospace industry, research and the public sector impressively displayed their know-how, products and skills. The Federal Ministry for Climate Protection, Environment, Energy, Mobility, Innovation and Technology, the FFG and AustriaTech provided advice on national and international funding, the Austrian competencies exemplified by the aeronautics.at platform as well as information on upcoming information events for research & innovation in aviation. The technology and business exhibition featured, for example, the Upper Austrian OEM FACC with its autonomous cab drone or the mobile, emission-free and hydrogen-powered generator from Test-Fuchs. Several demonstrators of the technology provider Frequentis were on site, for example a traffic management system for drones, on the one hand for airspace monitoring and control or on the other hand the mobile remote tower. The drive system manufacturer Pankl, which produces in California and Kapfenberg, presented its product ranges of non-redundant and thus safety-critical components for lift trucks.
In the field of interior components for Airbus, Pilatus, Embraer or Dassault, ANTEMO, an SME from Styria, is focusing on ever lighter components in order to save weight and fuel at the same time. AMES as a supplier of modifications as well as the required verification such as certification for aircraft cabins and cockpits was also on site. In addition to other Austrian software and hardware suppliers for aviation, the research department Machine Elements and Aviation Transmissions of the Vienna University of Technology also presented innovative projects in the field of helicopter drive trains, which are used in more environmentally friendly engines.

Research and innovation from Austria
Austria's unique geography makes it a pioneer in high altitude flight and it also offers courses in this area for international flight crews - which are attended, for example, by the UK Joint Helicopter Command, US Army Europe and Africa and Italian crews. The role of the Austrian Armed Forces is to be prepared at all times for relief and disaster missions. The Alouette 3, a reliable and robust helicopter that has been in service for over 50 years, is now being replaced in Austria by the Leonardo AW169M multi-role helicopter.
Helicopters are indispensable in rescue and disaster relief operations. Their technology is constantly improving and Austrian industry and research, such as innovations and research projects at the Vienna University of Technology, are contributing to ever safer, quieter and more fuel-efficient helicopters. Research on helicopters has been conducted at the Vienna University of Technology for almost 100 years. Since 2008, the research department Machine Elements and Aerospace Transmissions has been working more intensively on improved transmission technology, better lubricants or wear reduction up to aerodynamics.
A publication of the Vertical Flight Society "VERTIFLITE" recently published an article about the innovations of the Austrian community and the contributions of the TU Vienna to international working groups and events. Read the contribution below this article.